In partnership with the six baseball teams of Japan's Pacific League and Pacific League Marketing Corporation ("PLM"; headquarters: Chuo Ward, Tokyo; CEO: Yuki Negishi), Mercari announces today the start of Japan's first NFT (non-fungible token) business for the six teams of the Pacific League. The collectable "Pacific League Exciting Moments β" NFTs, tentatively scheduled to be available in December 2021, feature images of memorable moments and unforgettable scenes in the history of Pacific League baseball. This also marks the first time that a Japan-based sports league has used footage from sporting events to enter the NFT business.
Mercari and its business partners have also announced the start of an official Twitter follow and retweet promotional campaign. Starting December 16, people who follow or retweet the promotional Twitter account (@PacificleagueEM) will be eligible to enter a draw for a baseball signed by a player on one of the six Pacific League ball clubs.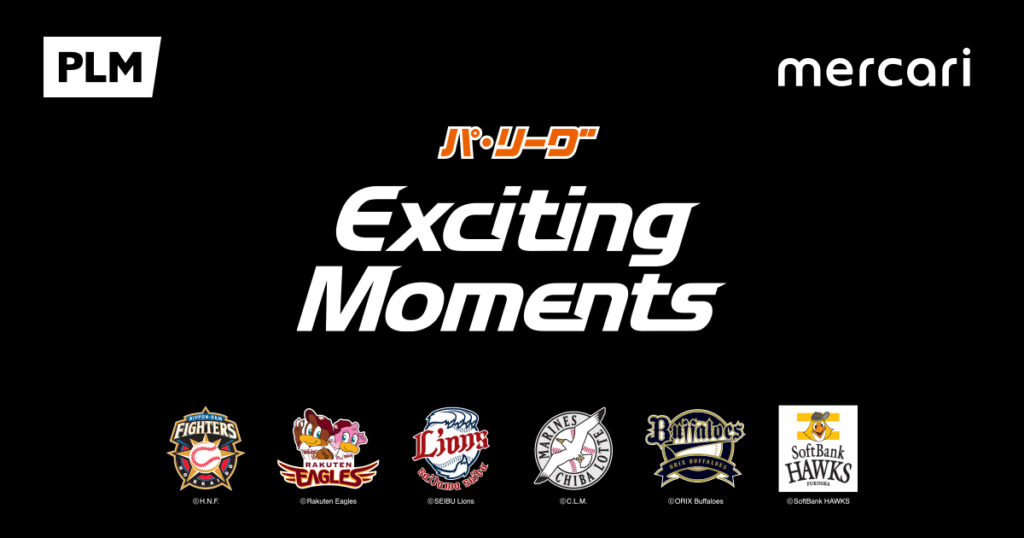 ■ Overview of "Pacific League Exciting Moments β"
"Pacific League Exciting Moments β" is an official service authorized by the six Pacific League teams that will allow collectors to store in their private collections video content that captures the most memorable moments and unforgettable spectacles in the history of the six Pacific League baseball teams.
Current plans for "Series 1 – '21 Season Best Players," which will form the starting product lineup, will focus on the game footage of 18 different plays delivered by players who excelled during the 2021 season. Each NFT will have a rarity score indicated by stars and rated according to the scene and player. The products will be available on a dedicated website for baseball fans to purchase easily and enjoy. Normally, spectators are prohibited from downloading official game footage, but Exciting Moments users will be able to download and own any content they purchase. They will even be able to share it on social media provided they do so using a feature offered by the service.
Note: Initially, the service will only offer a feature for purchasing products, but the company is also looking at providing a feature that uses blockchain technology and another feature for reselling collection items.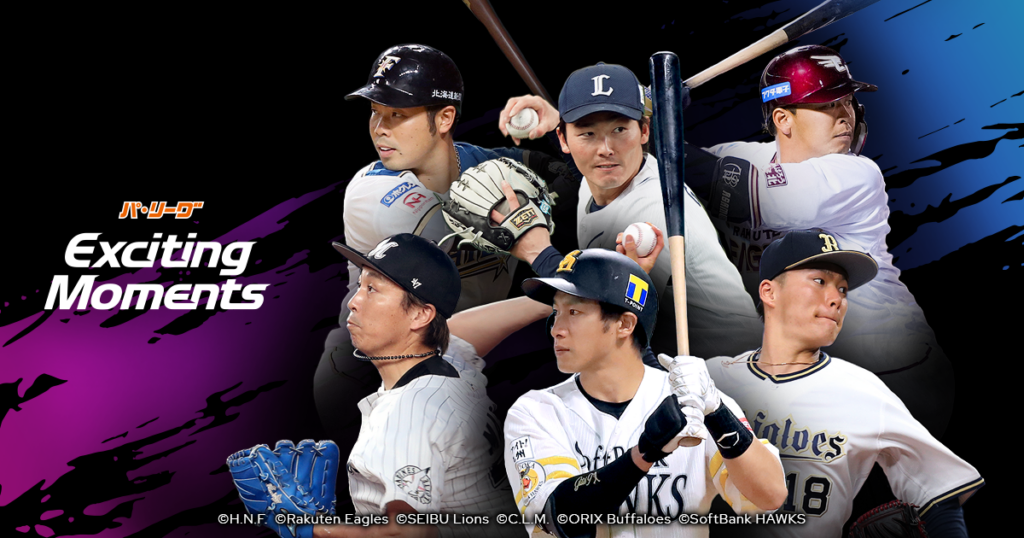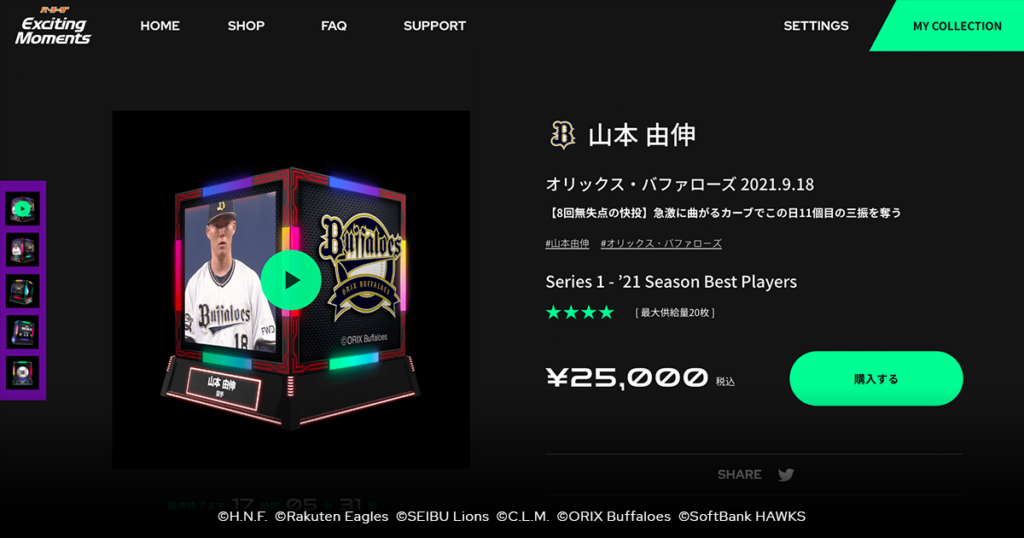 Starting product lineup "Series 1 – '21 Season Best Players" (planned)
(Total of 18 players)
The number in parentheses shows the number of limited edition products to be made available initially.
Team
★★★★
(20)
★★★
(50)
★★
(100)
Hokkaido Nippon-Ham Fighters
Naoyuki Uwasawa
Hiromi Ito
Kensuke Kondo
Tohoku Rakuten Golden Eagles
Takahiro Norimoto
Takahisa Hayakawa
Hiroaki Shimauchi
Saitama Seibu Lions
Kaima Taira
Tomoya Mori
Takumi Kuriyama
Chiba Lotte Marines
Naoya Masuda
Kazuya Ojima
Takashi Ogino
Orix Buffaloes
Yoshinobu Yamamoto
Masataka Yoshida
Yutaro Sugimoto
Fukuoka Softbank Hawks
Kodai Senga
Yuki Yanagita
Ryoya Kurihara
Note: No one-star products are available for the first round of sales.
■ Background of "Pacific League Exciting Moments"
Due to the COVID-19 pandemic, professional baseball teams have recently continued to play games either without spectators or with capacity limits imposed. Under these conditions, each team has seen a substantial drop in sales opportunities of what have always been their main sources of revenue, such as tickets, food and drinks, and official team merchandise. For some teams, this translates into sales this year being nearly half of what they were compared to last year, with the industry continuing to face a dire business climate going forward. As a more mid-to-long-term issue, the loss of opportunities for people to visit ballparks and communicate with the players in person may have also led to decreasing fan numbers and other impacts.
Naturally, the six teams of the Pacific League and PLM have held joint events for all six teams in their stadiums. But even outside of the stadiums, the teams and PLM have continued to try to find ways of providing fans with new forms of value. This is especially true of the way they have applied digital technologies, such as their use of both the league's official video distribution service "Persol Pacific League TV" and the league's YouTube channel.
Since it was first launched in July of 2013 as a service where anyone can buy and sell easily and safely, the Mercari marketplace app has continued to grow as a marketplace used by many and that boasts approximately 20 million monthly active users as well as a cumulative total of over 2.5 billion listings.* In April 2021, Mercari Group also established Mercoin, Inc. to work on planning and developing services related to cryptoassets and blockchain technologies.
Mercari's partnership with PLM will roll out a service that allows professional baseball fans to buy and own their favorite moments in the game, which they can watch at any time, and also allow fans to keep these moments as personal collectibles. Going forward, Mercari plans to leverage its marketplace knowledge, cultivated through the Mercari marketplace app, to examine prospects for next year of a marketplace built on blockchain services and collection resale features, for example. In this way, the marketplace would aim to create a dynamic community among users.
Note:The values quoted in this press release differ from quarterly averages, such as the numbers of registered users who browsed the Mercari app or website at least once in the month of September 2021 or the MAU disclosed in year-end financial reports, because such figures are quarterly average figures. The cumulative number of listed items represents the sum total of all items listed in Japan since the launch of the service (July 2, 2013).
■ Pacific League Exciting Moments
Category
Description
Sales method

(Period/Quantity)
The sales period and quantity of products will vary according to their rarity.
*For information about the initial product lineup and quantities for sale, see the table in this press release.
Purchase method
Once a user registers an account on the "Pacific League Exciting Moments β" website, they will be able to purchase NFTs. The website only accepts payment by credit card.
Purchase price
Initial lineup products will be available for purchase starting at ¥2,000.
The price will vary depending on the rarity of the image, indicated by the number of stars.
Rarity
For the initial lineup, there are three grades of rarity available, ranging from two to four stars.
Other
– Users can download and keep the content that they purchase.
– After content is downloaded, users can share it on social media, or other such types of platforms, only if they use the share feature provided through the service.
※This may be subject to future change.
■ Details of the Follow & Retweet the Official Twitter Account Promotional Campaign
■ Overview
Users who quote tweet our promotional tweet during the promotion period will be entered in a draw to win a baseball signed by a player on one of the six Pacific League teams. Here is how to enter:1) Follow the "Pacific League Exciting Moments β" Twitter account (@PacificLeagueEM)
2) Create a quote tweet out of the tweet for this promotional campaign
3) Add the name of your favorite Pacific League team to your quote tweet and then post your tweet!
(Winners will receive a baseball signed by a player on the team that they added to their quote tweet.)

■ Prizes
Up to 48 users will receive signed baseballs from players on one of the six Pacific League teams.

■ Promotion Period
From 10:00 AM on December 16 to 11:59 PM on January 5, 2022

■ Official Twitter Account
https://twitter.com/PacificLeagueEM (@PacificLeagueEM)