Easy and secure with the Mercari app—begin in as little as 30 seconds!
Mercoin, Inc. ("Mercoin"), a subsidiary of Mercari Inc., that plans and develops services related to cryptoassets and blockchain, is proud to announce the launch of its own cryptoasset exchange business on March 9, 2023. This is a new service that allows users to buy and sell bitcoin from the Mercari marketplace app.1
By enabling Bitcoin transactions using the regular Mercari app, we now allow users to convert items they no longer need into future assets. Applying for this service is done from within the Mercari app and takes as little as 30 seconds, after which users can start buying and selling bitcoins right away. Users can purchase Bitcoin for as little as 1 yen, using money added to their balance from bank accounts or their sales proceeds and points2 earned from selling items on Mercari. Enabling this kind of small investment provides a low-stress way for users to get started. In this way, Mercoin offers an easy and secure experience—even for users who have little to no experience with Bitcoin.
1. Starting today, Mercari users will be able to apply for and use the service, which will be rolled out in stages (subject to screening). Note that users must be between 20 and 74 years of age to be eligible for this service. 
2. In this press release, "points" refers to free points.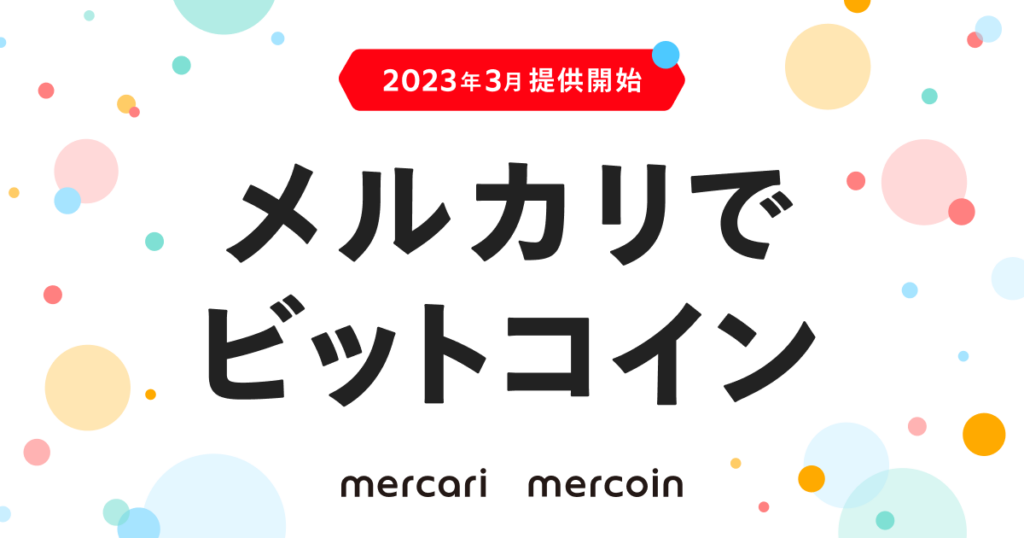 The Three Features of This Service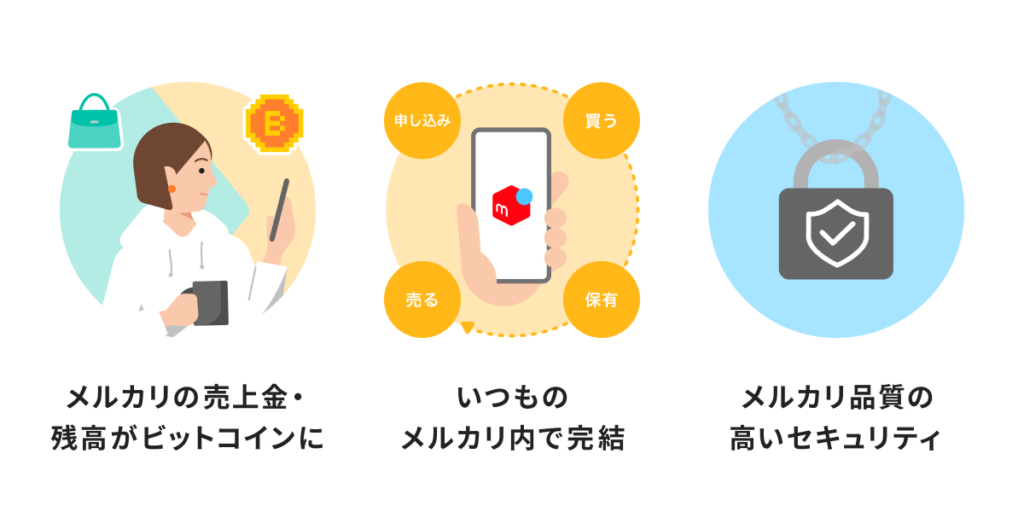 1.Purchase Bitcoin with Mercari sales proceeds and points
In addition to shopping on Mercari and making payments with Merpay as usual, users will now also be able to purchase Bitcoin with their sales proceeds and points earned from selling items they no longer use on Mercari. By converting items into money on Mercari, and then using that money to purchase Bitcoin, users can transform items that they no longer have a use for into future assets.
2.Do everything within the Mercari app
Users can complete the entire process—from applying for the service to actually purchasing and selling bitcoins—within the same Mercari app they always use. Users who have completed identity verification will be able to complete their applications for the service in as little as 30 seconds. Once users have passed the screening process, they may immediately begin purchasing bitcoins and checking the valuation and price fluctuation of their bitcoin holdings from the Account screen on the Mercari app. Additionally, users can sell their bitcoins to return the proceeds to their Merpay balance at any time, so it can be used right away for both purchases on Mercari and other purchases and payments.   
3.Enjoy a safe and secure experience with our security system and asset protection
Mercari continuously strengthens its security measures across the Group to ensure that our services are safe and secure for users. We have a team dedicated to building a safe and secure experience for users of our services across Mercari Group, and the security measures that have been implemented to date will also be applied to our cryptoasset business. In addition, the safe and secure password-less biometric authentication (based on FIDO authentication specifications) that Mercari Group is working to implement in its various services in the future has now been introduced by Mercoin to achieve more robust user authentication. Mercoin will also properly segregate and protect users' assets.                   
Start using the service in six easy steps1
1. Open the Account screen on Mercari and select "Buy Bitcoin" under "Balance/Points"
2. A screen will display with information regarding the service. Read it thoroughly and then tap "Start"
3. Follow the instructions on the application screen and register your biometrics and verify your identity
Note: Users who have already completed this step can skip it and move directly to applying for the service.
4. After thoroughly reading through the the list of important items that will be displayed on your screen, tap "I understand all important items" and then "Agree and proceed"
5. Enter all information necessary for the application
6. After confirming that all of the information you entered is correct, press "Complete application"
After completing the application, users will be redirected to the Bitcoin transaction screen and begin making transactions. After this, they will be able to access the Bitcoin transaction screen at any time by selecting "Bitcoin" from the account screen.
1. Starting today, the service will be rolled out to Mercari users in stages (subject to screening). Note that users must be between 20 and 74 years of age to be eligible to use this service.
Background and Goals for this Service
In February 2023, Mercari celebrated its 10th anniversary and announced a new Group mission, which will propel Mercari Group through its next decade of growth, "Circulate all forms of value to unleash the potential in all people." In the 10 years since its establishment, Mercari has always aimed to be a marketplace where anyone can enjoy buying and selling items. To date, the Mercari marketplace app has been used by a total of approximately 48 million users3, with GMV for the most recent year approaching 1 trillion yen (January 2022 to December 2022: 932.5 billion yen). In addition to the items and money that circulate on Mercari, we have expanded the circulation of value by increasing payment locations and creating new credit through Merpay, the Group's payment and credit business.
Now, we are launching a Bitcoin trading service in order to expand the value that we circulate even further. As the Japanese government is currently promoting asset building under the tagline, "from savings to investment," we believe that there is a growing interest in cryptoassets as investments. However, cryptoassets are also risky and highly volatile, and we understand why users might be afraid to lose money by investing a large amount in them. We also understand that there are procedural barriers, including that many users think cryptoassets require a significant amount of time and effort. That is why Mercari Group has created this service—so that anyone can easily and securely convert their sales proceeds and points obtained from selling items that they no longer need into bitcoins, all through the familiar UI of the Mercari app.
Looking at the cryptoasset industry in Japan, we can see that there are approximately 6.3 million cryptoasset accounts, of which only approximately 3.7 million are active.4 This indicates that cryptoasset services are actually used by just a select few. Mercari aims to increase the number of cryptoasset holders and create a marketplace that circulates all forms of value—not only physical items, but digital assets as well.                           With the launch of our new cryptoasset business, we strive to make Bitcoin more accessible to those who have never made a cryptoasset transaction before, thus growing the overall number of cryptoasset service users in Japan. In addition to providing cryptoasset transaction services, we will also be implementing financial education initiatives related to the concept of asset building, and in February we launched our first such initiative—The Basics of Money course as part of Mercari Workshop in cooperation with the Tokyo Stock Exchange and other institutions.5
3. Total number of users:
The number of users who browsed the app or website at least once between July 2013 and October 2022 (excluding banned accounts).
                                                                                                                       4. From data collected and released monthly by the Japan Virtual and Crypto Assets Exchange Association (December 2022 data used here)
https://jvcea.or.jp/about/statistics/
5. For more details, see the press release linked below.
Mercari Reaches 250 Thousand Mercari Workshop Participants and Introduces a New Course
https://about.mercari.com/press/news/articles/20230215_moneyschool/ 
Mercari Group aims to be a planet-positive company and, in achieving the circulation of all forms of value, seeks to make itself indispensable to society. As such, with the launch of this new cryptoasset business, Mercoin will conduct carbon offsetting in accordance with the size of each user's Bitcoin transactions in order to reduce the CO2 emissions of our business.
Since 2017, Mercari has been carefully looking into utilizing blockchain technology in the R&D field. Personally, I have been involved with R4D (Mercari's R&D organization) since its establishment, developed "Mercari X" as a blockchain-based Mercari app, and have continued to consider how blockchain technology could be implemented in society through the Mercari X PoC.
Cryptoassets, blockchain, and Web3 are still only used by a small section of the population, and while there are signs of gradual change to this trend, there has not yet been any major innovation. In developing this service, we have focused on providing our users with an experience that will allow them to get familiar with Bitcoin through the Mercari app that they are already familiar with. This lets users ease their way into the open and new world of blockchain.
In the future, we plan to further expand our services, bridging the gap between our everyday life and the blockchain world.

Moving forward, Mercoin will continue to take on even more new challenges related to the fields of cryptoassets and blockchain.
Details of Mercari's Bitcoin transaction service
User requirements
Users between 20 and 74 years of age who meet the following three criteria:

1. Has a Mercari account
2. Has registered their biometrics
3. Has completed identity verification (eKYC)
Available cryptoassets
One type of cryptoasset is available (Bitcoin)
Buying & selling hours
24 hours per day, 365 days per year (except for regularly scheduled maintenance)

Maintenance hours: Every Wednesday from 13:50–16:30
Notes:
1. These hours may vary.
2. Irregular maintenance may also occur.
3. Transactions may not be possible in the event of a system error or failure.
Cryptoasset purchase methods
1. Money added to your balance from a bank account
2. Mercari sales balance
3. Mercari points
Registration fee
None
Service usage fee
None
Deposit and withdrawal fees
None
Note: There is a designated fee for withdrawing funds from your Merpay balance to your bank account.
Spread (the difference between the purchase price and the sale price of bitcoins)
Included
Minimum order amount
1 JPY
Leverage transactions
Non-compatible